Coming Up Next…..
December 6, 2023
7:30 pm
Free entry
Hurray! The infectiously fun and talented Hamish Currie is returning to play for us in this special Scottish night to celebrate St Andrew's day. Here's Hamish in his own words:
"Hamish loves the folk scene in all its variety – 'cos it's fun. The participation, the interaction, the spontaneity: the total "live" performance thing.
Having appeared as the guest artist at clubs from Cumbria to Sussex and featured at festivals from Yorkshire to Dorset, he is equally at home in a small, intimate acoustic setting with whites-of-the-eyes contact right up to bigger stages with audiences in hundreds and thousands. "Seeing them floundering about in all those little coloured sugary balls is such a hoot" he says. (Okay, so he's never actually played to thousands. But that's not going to stand in the way of a fantastic joke about cake decorations.) Meanwhile, back at the profile… communication is what it's all about. Whether it's putting over the drama of a traditional ballad or setting up a rousing chorus, the audience is always an integral part of the performance.
He doesn't like to mention his self-deprecating sense of humour. "Because", he says, "it's not very good."
Originally from the east coast of Scotland, folk music was always part of the landscape. But it was on moving south half a lifetime ago and discovering English folk music that his performing really took off. His repertoire is now taken from the traditions on both sides of the border, laced with some original and contemporary material. And fun. And cake decorations."
And there's more Scottish music to add even more warmth and excitement to the evening. In a late addition to this awesome all-Scottish line-up we have the mighty Pat Crilly who'll be giving us a few well-chosen songs from north of the border, along with maybe one or two of his own compositions in the Scottish vernacular. Plus, we'll have our Shetland-born-and-raised friend, Kevin Johnson, whose wonderful voice and playing you'll remember from when he played at this same event last year.
You really won't want to miss this night as we have everything you could possibly want, all primed and ready to go. Hoots Maun! Free entry, but please bring some cash (Scottish notes accepted!) for the hat and the raffle.
---
December 20, 2023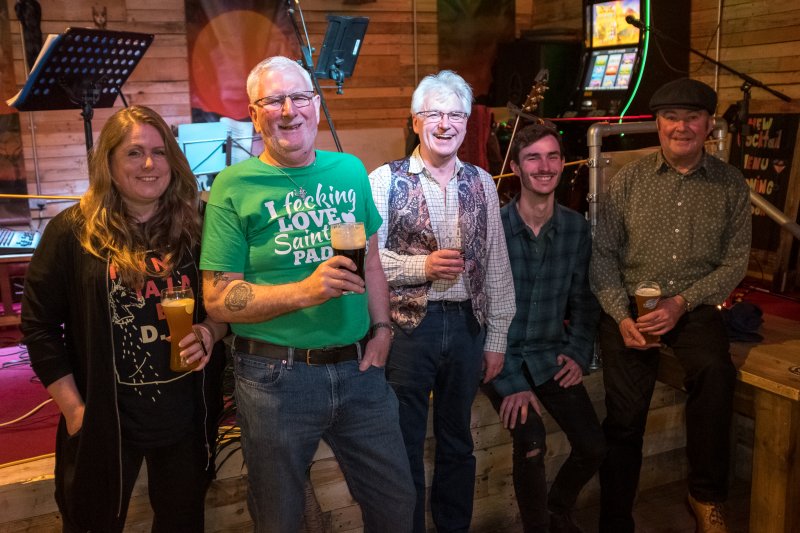 Our legendary Christmas Party takes place on December 20th and features the amazing Robin Campbell's Celtic MashUp, among other festive singers and players and lots of party fun! Everyone welcome to come and join us. Free entry.
Robin Campbell – Scottish singer, guitarist, songwriter born Glasgow 20th May 1948 has been on a long and winding road via different genres, but Robin has always stayed true to his Celtic roots.
"Robin Campbell's Celtic MashUp was formed in 2020 during the covid pandemic. There are hard core members in the band but, like the songs, we creatively introduce different players from a basic Celtic MashUp duo, Robin and Matt Waters on fiddle, to the full MashUp band. Now add a few musical friends and it's a MashUp / JamUp as we call it. You suddenly become a Masher if you ever play with Celtic MashUp.
Our mashups are creative blends of songs or feats with instrumental traditional music producing high energy rhythms of various genres with jigs and reels from the Celtic Nations.
Don't be surprised to find Lady Madonna with The Atholl Highlanders or Dennis Murphy riding Shotgun with George Ezra and we also do keep to the traditional originals on many songs !
Expect the unexpected at our gigs and we promise you a real shindig – Slàinte!"
---
---
The Tangler's Irregulars Session
The Tangler's Irregulars will be back at the Cock Pub on Sunday, 10th December – this time from 2:30 to 5:00pm. Why not come and join us at this lovely, friendly pub and hear some great music? Irish Traditional Music, Americana, Old Time and Country, Irish and Scottish songs, with the odd popular classic thrown in. Musicians welcome to join in but please let Brian know you're coming 07768 274037. Everyone else welcome to come along and listen. Free entry, and a lovely way to spend a Sunday afternoon! The Cock, High Street, Baldock. SG7 6BG.
---
Our regular club nights take place at The Orange Tree, Norton Road, Baldock, SG7 5AW every other Wednesday and are free unless otherwise stated. However do please bring some cash for the whip round for the performers – they've had a hard time recently and need our support!
Check out our full programme of events here
---
Watch our previous Round-Up shows here