Molly Armstrong/Viv Lucas – 20th October, 2021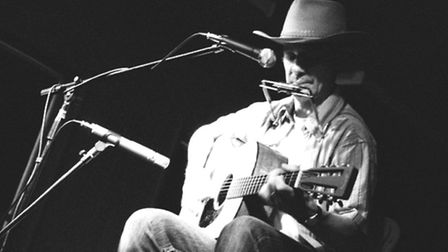 Tonight is a special double headline gig by two great performers who regularly appear at the club. Molly engages the audience immediately with her pure, clear vocals and sincere delivery. https://molly-armstrong.com
Viv is a well-known, locally-based singer songwriter whose album Edgelands features ten original songs. www.vivlucas.com
Beans and Biscuits – 6th October, 2021
with support from Jim Watts
A good time Rockabilly and Swing outfit from rural Hertfordshire. These guys play both kinds of music in their own inimitable fun style. Fronted by Martin (Fatman) Spencer, you will be entertained and amused by their personal take on the great British and American songbooks. They really get the crowd jumping and smiling with their colourful showmanship. You are guaranteed a great fun evening. www.beansandbiscuits.co.uk
Jim Watts plays evocative guitar and applies his rich voice to some great country songs, and tells some funny stories in between! We're glad to have him back! https://www.facebook.com/jimwattssingerguitarist/
Daria Kulesh – 22nd September, 2021
with support from Stewart Murdoch
With her "extraordinary voice" and strong Russian and Ingush heritage, Daria Kulesh has been making a name for herself as a "bold, exotic, impressive" performer. Her debut release Eternal Child was described as "phenomenal"; her second album Long Lost Home has enjoyed rave reviews, national radio play and multiple awards in the UK & Russia. www.daria-kulesh.co.uk
Support on this occasion is provided by Scottish singer, guitarist and songwriter Stewart Murdoch.
Wildfire – 8th September, 2021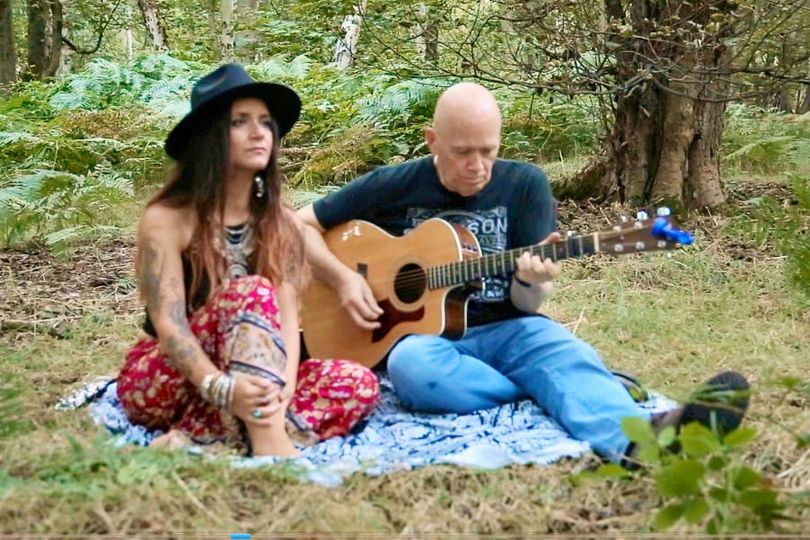 Kicking off the new season, we welcome Wildfire, an acoustic folk-rock duo from Bedford, previously playing as part of the Bedford-based band 'Cheap Thrill$'.
Wildfire specialise in covering some great well known songs from artists as diverse as Simon and Garfunkel , Dylan and Springsteen and will provide the club with a lively start to the Autumn season .
Musical support on this ocassion will be provided by club stalwarts Brian Burke and Greg Rose, and we'll also have some fascinating stories on the history of Baldock from the ever-entertaining Jane Havercroft.
Admission is FREE and doors open at 7:10 for a 7:30 start so we welcome all to come down for a great evening's entertainment !

£700 raised for Motor Neuron Disease charity – 29th August, 2021
Our Folk 'round the Tree festival on 29th August was a great success with superb music throughout the afternoon and evening and a lovely holiday atmosphere. We are thrilled to have raised over £600 for the local branch of the Motor Neuron Disease association, a very worthy cause and one that is close to the hearts of many of us here at the club. Thanks to Brian Burke and Viv Lucas who organised the whole shebang, and to all the team at The Orange Tree and Baldock Folk Club for making it run so smoothly. Also huge thanks to all the musicians and bands who kept us entertained and to everyone who came along and made it such a special day.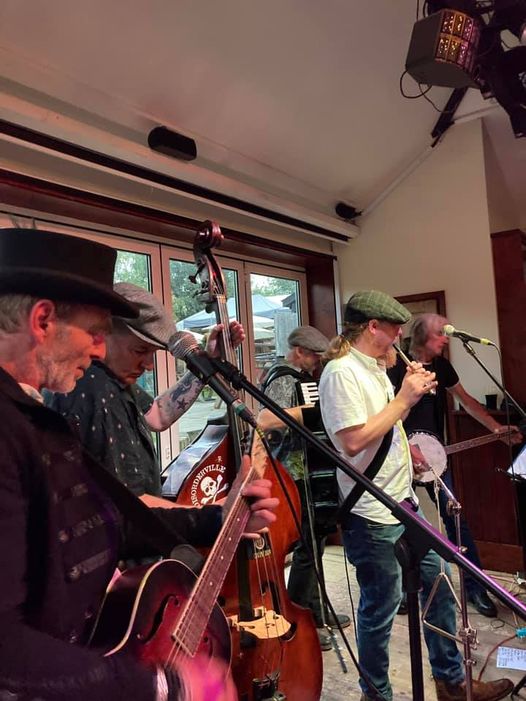 Folk 'round the Tree Festival – 29th August, 2021
This year's one-day music festival takes place on the Bank Holiday Sunday, 29th August, at The Orange Tree Baldock. Starting at 1pm and continuing with non-stop great bands and performers until around 8pm.
Food and drinks available, beautiful pub garden setting, free entry (donations encouraged) and the famous Baldock Folk Club raffle, with proceeds going to the MND (motor neuron disease) Association. Live music comes from local legends Skimmington Ride, local hero Kelvin Davies, award-winning near-enough local singer/song-writing star Chris Fox, local treasure Viv Lucas, up-and-coming songstress Kate Rice, newly-named but eerily-familiar favourite duo Shawnee Mountain Boys (aka Brian and Dave), our own Baldock nightingale Dorrie, Club hero Greg Rose…..and more!
Running Order:
13:00 Baldock Folk Club
13:30 A and R Guitar
14:05 Americano
14:50 Chris Fox
15:40 Kate Rice
16:25 Brian and Viv introduce MND and raffle
16:45 Shawnee Mountain Boys
17:40 Kelvin Davies
18:30 Skimmington Ride
Come along and enjoy! (Phone John at The Orange Tree, 01462 892341, to book a table or take your chances on the day!)
July Highlights video – 11th August, 2021
July was a busy month for the club, with no less than four live music events. We've crammed the highlights of all the events into this 45-minute video for those of you who were unable to attend them all, or just for some happy memories for the rest of us. The video is now available to view at https://www.youtube.com/watch?v=LHfjbiCvq6E The music comes in four sections around which Shelagh McConnell interviews club supremo Brian Burke, looking back at the past tumultuous year and giving an idea of what is happening in the future with the club.
We start with rising singer / songwriter Chris Fox then the legend that is Brooks Williams with support from Dave Stacey and Brian Burke. The folk festival "Todd at the rugby club" on the hottest day of the year provided some great music and song from Skimmington Ride, The Devines, and Kelvin Davies amongst others, whilst our last show featuring Joe Quinn, Robin Campbell and friends was a real Scots knees up.
So plenty of variety and information crammed in to the 45 minute show. Please share with friends and those who may live further afield and cannot make it to the club for live shows. As long as there is an appetite for it we'll produce a highlights video every month. So, sit back have a cuppa , pint or dram and listen to a great show!