Coming Up Next…..
September 27, 2023
7:30 pm
Free entry
A genre-defying Folk troubadour, Chris made rapid progress through the UK folk and roots scene with his song writing, with a variety of styles across the roots lexicon of traditional & contemporary folk, Americana, Country and Blues. Chris is no stranger to Baldock Folk Club, having played here many times and our audience is always enthralled by his rich vocals, complex guitar playing, and loop pedal alchemy. His naturally laid back, unostentatious style creates the perfect ambience for an intimate and inclusive live experience drawing listeners in with tales of both the everyday and the unexpected.
Born and raised in Cambridgeshire, Chris cut his teeth playing for pints in local drinking establishments along the river Great Ouse in 2014. Fast forward to an award-winning singer songwriter, Chris has performed at Folk Festivals, Clubs and Theatres in the UK as a Headliner, in Double Bills and as support for major acts on the UK Folk Scene. Runner up in the Bury St Edmunds song competition he went on to win the Sheringham Showcase to open for Fairport Convention at Folk on The Pier 2018 and the Lichfield Folk Festival song writing competition 2019. Chris has played Cambridge Folk festival 3 times including a packed out set in The Den.
Now playing headline gigs, Chris supports some of the greats including Peter Knights Gigspanner Trio, Peter Knight & John Spiers, Jim Moray, Trials of Cato, Boo Hewerdine, Lucy Ward, Grannies Attic, Kathryn Roberts & Sean Lakeman, Edwina Hayes and Ange Hardy. Chris released his first studio album 'From the Shadows' and the single 'Bird of Paradise' in 2019. Both were well received. In September of 2022 Chris released his second studio album 'In Plain Sight' to critical acclaim.
We are delighted to welcome back to the club Karen Macwhinnie, who wowed the audience with her incredible voice when she and the band played here last year. Originally from Scotland, but long-based in Cambridgeshire, Karen has spent years singing Americana Country, jazz, folk and blues, and has a love of songs with a heartfelt narrative which she delivers in a powerful and sensitive vocal style. As luck would have it, Karen's favourite songs are shared with Matt Kelly and Gary Woolley who have played together as duo Kelly and Woolley for twelve years. Singer songwriter Gary Woolley draws inspiration from the English folk tradition and the wealth of North American singer songwriters. Matt Kelly is a multi-instrumentalist and song writer who plays in several orchestras and bands, including Thursday's Band.
Together the trio deliver fine renditions of well-known songs with beautiful arrangements and fine harmonies.
---
October 11, 2023
7:30 pm
Free entry
We are delighted to have Stella Hensley's amazing five-piece band playing for us tonight! Bluesy songstress Stella brings her Magical Amigos to Baldock. Heartfelt original songs with a twist of folk, jazz and blues featuring some truly outstanding musicians: guitarist Chris Newman, Myke Clifford on Sax, flute and vocals, keyboard wizard Art Toper and Malek Hyde Smith on percussion.
Stella Hensley is a powerful singer songwriter with a smoky, sultry, velvet voice and an engaging stage presence. Often compared to Stevie Nicks and Alison Moyet, she trained at the Academy Of Live and Recorded Arts in Wandsworth, studying Acting, Film and Radio. Stella has worked with Mark Shaw (Then Jericho), and with Ricki Wilde, and has also worked as a session singer. She was the opening artist for Uriah Heep at The Shepherds Bush Empire at the Magicians Birthday Party Tour.
Chris Newman has an extensive musical CV having worked with The Climax Blues Band and then going on to form The Mississippi Houndogs with Climax front man Colin Cooper and featuring Pick Withers (Dire Straits) and Roger Innis (Chaka Khan) and Terry Butters (Sutherland Bros). Chris composes music for Film, TV and Radio and is the UK demonstrator for Collings Guitars and Kudos Mimesis pickups by Mike Vanden.
Stella and Chris have toured extensively for many years and between them have recorded eight albums and guested on many others. Their live performances are regularly enhanced with the addition of some truly outstanding musicians, and tonight will be no exception!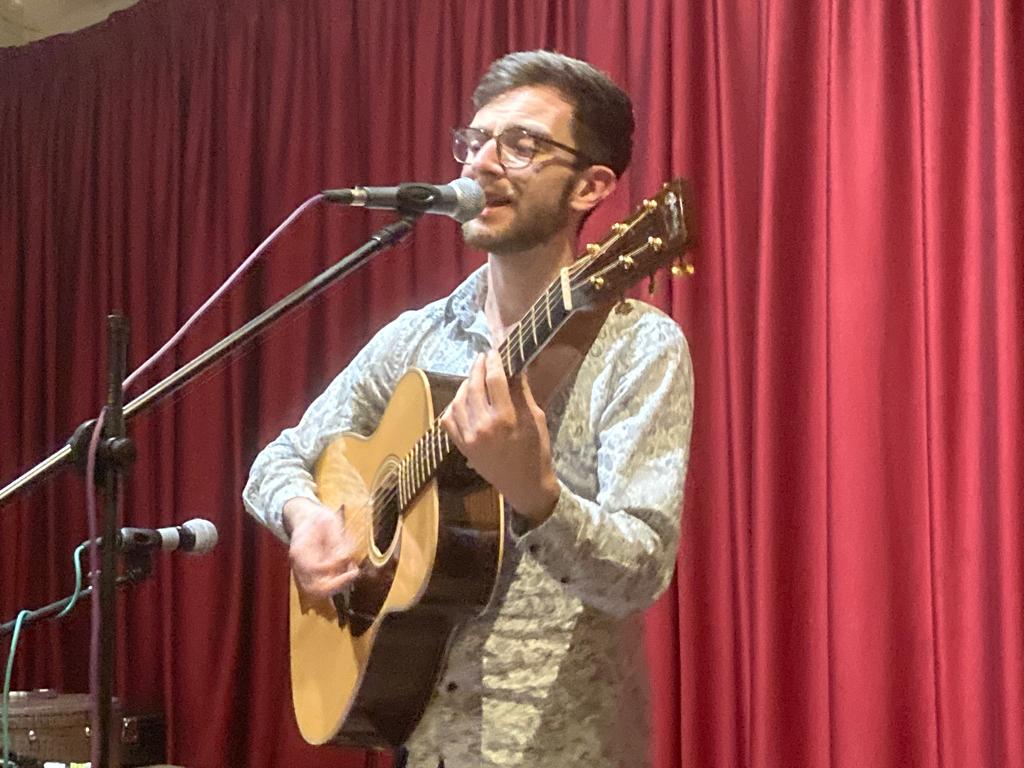 We also welcome the return of one of our favourite guitar players, Chris Wright. If you haven't already seen Chris at one of our festivals or our club nights at The Orange Tree, you'll be astounded by his prowess, but equally charmed by his choice of bluegrass, country and blues numbers. He also has a fine singing voice and is fast becoming a great all-round entertainer.
---
---
The Tangler's Irregulars Session
The Tangler's Irregulars will be back at the Cock Pub on Sunday, 15th October from 2:30 to 5:00pm. Why not come and join us at this lovely, friendly pub and hear some great music? Irish Traditional Music, Americana, Old Time and Country, Irish and Scottish songs, with the odd popular classic thrown in. Musicians welcome to join in but please let Brian know you're coming 07768 274037. Everyone else welcome to come along and listen. Free entry, and a lovely way to spend a Sunday afternoon! The Cock, High Street, Baldock. SG7 6BG.
Future dates:
15th October
12th November
10th December
---
Our regular club nights take place at The Orange Tree, Norton Road, Baldock, SG7 5AW every other Wednesday and are free unless otherwise stated. However do please bring some cash for the whip round for the performers – they've had a hard time recently and need our support!
Check out our full programme of events here
---
Watch our previous Round-Up shows here